The
Beretta 950
is a semi-automatic pistol designed and manufactured by Beretta since 1952. It builds on a long line of small and compact pocket pistols manufactured by Beretta for self-defence. It is intended to be a very simple and reliable pocket pistol.
Mr. Joshua uses a Beretta 950 as his primary pistol in combat.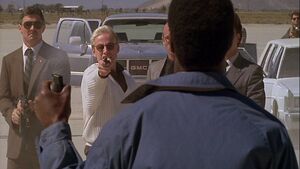 It is pulled out by Mr. Joshua when things in the negotiation between Shadow Company and Roger Murtaugh and Martin Riggs (who they thought was dead) goes awry.
Ad blocker interference detected!
Wikia is a free-to-use site that makes money from advertising. We have a modified experience for viewers using ad blockers

Wikia is not accessible if you've made further modifications. Remove the custom ad blocker rule(s) and the page will load as expected.