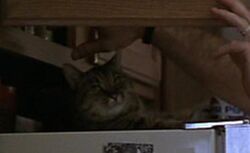 Burbank the Cat
is the pet cat of the
Murtaugh Family
.
Burbank is seen with the Murtaugh Family as they get ready for the day when Roger Murtaugh leaves for work. He later appears when Martin Riggs is introduced to the family for dinner. At the end of the film, Burbank is heard caterwauling when Riggs' dog, Sam joins them for Christmas dinner.
In his second and final appearance, Burbank's role is much smaller. He can be seen on top of the refrigerator in the kitchen as Riggs reaches for a recipe in the cabinet over the fridge. In Lethal Weapon 3, he is replaced by the West Highland Terrier as the Murtaugh family pet.
As he isn't seen in the third or fourth films, and thereby replaced by a West Highland Terrier in the third film, it is unknown if he died at some point before, ran away from home, or was given up to another family for adoption.
Ad blocker interference detected!
Wikia is a free-to-use site that makes money from advertising. We have a modified experience for viewers using ad blockers

Wikia is not accessible if you've made further modifications. Remove the custom ad blocker rule(s) and the page will load as expected.