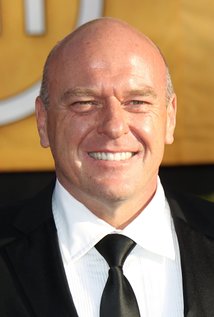 Dean Norris is an actor. He portrayed DEA agent Hank Schrader on the AMC series Breaking Bad (2008–2013) and town councilman James "Big Jim" Rennie on the CBS series Under the Dome (2013–2015).
Norris has appeared in films such as Lethal Weapon 2 (1989), Hard To Kill (1990), Total Recall (1990), Terminator 2: Judgment Day (1991), Starship Troopers (1997), The Cell (2000), Little Miss Sunshine (2006), Evan Almighty (2007), and Sons of Liberty (2015).
Norris has a black belt in martial arts, which he earned in high school, did even more full contact Karate and boxing during college.
He portrayed Tim Cavanaugh in Lethal Weapon 2.
Ad blocker interference detected!
Wikia is a free-to-use site that makes money from advertising. We have a modified experience for viewers using ad blockers

Wikia is not accessible if you've made further modifications. Remove the custom ad blocker rule(s) and the page will load as expected.