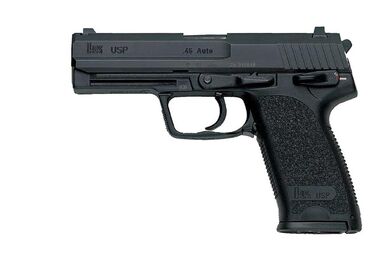 The Heckler & Koch USP (Universelle Selbstladepistole or "universal self-loading pistol") is a semi-automatic pistol developed in Germany by Heckler & Koch GmbH (H&K) of Oberndorf am Neckar as a replacement for the P7 series of handguns. Design work on a new family of pistols commenced in September 1989 focused primarily on the U.S. commercial and law enforcement markets. USP prototypes participated in rigorous testing alongside H&K's entry in the Offensive Handgun Weapon System (OHWS) program requested by the U.S. Special Operations Command (USSOCOM) and which would later result in the Mk 23 Mod 0. The USP prototypes were then refined in 1992, based on input from the OHWS trials, and the design was finalized in December of the same year. The USP was formally introduced in January 1993[3] with the USP40 model (the base version) chambered for the increasingly popular .40 S&W cartridge, followed soon by the USP9 (using the 9×19mm Parabellum cartridge), and in May 1995—the USP45 (caliber .45 ACP). In contrast to the ambitious and innovative P7, P9S, and VP70Z designs, the USP uses a more conventional Browning-style cam-locked action, similar to that used in the Hi-Power - but with a polymer frame.
This firearm is often seen being carried by Roger Murtaugh in some subsequent episodes of Lethal Weapon.
Ad blocker interference detected!
Wikia is a free-to-use site that makes money from advertising. We have a modified experience for viewers using ad blockers

Wikia is not accessible if you've made further modifications. Remove the custom ad blocker rule(s) and the page will load as expected.