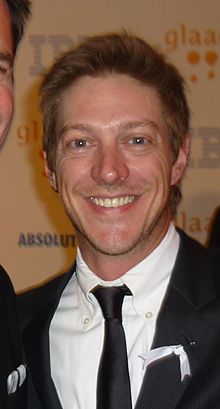 Kevin Rahm is an actor best known for his television roles as Kyle McCarty on Judging Amy, Lee McDermott on Desperate Housewives, and Ted Chaough on Mad Men. In March 2015, Rahm played a management consultant (Michael Barnow) to the Secretary of State in the TV show Madam Secretary.
Rahm was born in Mineral Wells, Texas. While a member of The Church of Jesus Christ of Latter-day Saints (LDS Church), he served as a missionary in France, Switzerland, and on the islands of Mauritius and Réunion between 1990-92. After returning to the U.S. he studied pre-law at Brigham Young University, before changing his major to drama. In 1994, he was awarded the Irene Ryan Award for best college actor, and in 1996 dropped out of university to pursue an acting career in Hollywood.
Rahm has stated that he is no longer a practicing Mormon.
He's currently casted as Captain Brooks Avery in Lethal Weapon.
Ad blocker interference detected!
Wikia is a free-to-use site that makes money from advertising. We have a modified experience for viewers using ad blockers

Wikia is not accessible if you've made further modifications. Remove the custom ad blocker rule(s) and the page will load as expected.