Martin Riggs
Talk

0
73pages on
this wiki
Martin Riggs

Status:
Alive
Age:
48
Date of birth:
October 16, 1949
Birthplace:
United States of America
Nationality:
American
Affiliation:
LAPD
Profession:
Police officer
Marital status:
Married
Spouse(s):
Victoria Riggs:
(1973 – 1984), her death
Lorna Cole:
(1998 – present)
Significant other(s):
Rika Van Den Haas:
(1989), her death
Children:
Son (with Lorna Cole)
Played by:
Mel Gibson
Films:
1, 2, 3, 4
First film:
Lethal Weapon
Last film:
Lethal Weapon 4
Appears in:
4 films
Martin Riggs (born October 16, 1949) is a Police officer for the Los Angeles Police Department. He was a member of the United States Special Forces until 1969. He married a woman named Victoria Lynn in 1973 and soon joined the Los Angeles Police Department.
After Victoria's death, Riggs fell into a deep depression, with his job as a Police officer the only thing keeping him from suicide.
Biography
Martin Riggs was born on October 16, 1949. He was a member of special forces in Vietnam from 1968 to 1969. Apparently he knew Mr. Joshua from the war but never had close contact with him. He got married in 1973 to a beautiful woman named Victoria Lynn. Sometime before 1984, Riggs joined the Los Angeles Police Department. In 1984, Victoria was killed in a car wreck that was meant to kill Riggs, causing him to fall into depression. While mourning that night, he saw a gold pen, which he brought to the hospital, where he identified her body and signed for her. Having no wife and only his dog to be with, Riggs entered depression and became suicidal.
Career
Somewhere in a beach in California, Riggs lives all alone in a trailer with his dog Sam. He is an alcoholic, smokes, and he can't get a grip of himself since the loss of his wife Victoria Riggs three years earlier. While driving his car out on the open road one day, Riggs hears a distress call on his police radio about a sniper at an elementary school. Riggs decides to put a stop to it. The sniper is on the second floor guarded by metal for cover, putting several kids' lives in danger. After feigning warning by police, Riggs manages to take down the sniper when he fails to kill Riggs. Riggs then walks off silently as the police deal with the rest of the damage.
Riggs later met with drug dealers, acting undercover with intentions to arrest them. After stating that he'd buy all the drugs they had in front of him, with a free Christmas tree included, he revealed that he'd take the drugs for free and put them in jail, showing his badge and pistol. He was able to take out two of the four drug dealers (one was hiding in the truck-trailer) while the other fled to hide. Just when the police showed up, the dealer grabbed Riggs and held him at gunpoint. After several shouts telling the officers to shoot, Riggs got fed up and smacked the dealer pointing his own gun under his chin, about to kill him before the officers took over and handcuffed the suspect.
Back in his trailer, he looks at his wedding picture of him and Victoria, then begins attempting suicide with his Beretta 92 pistol. With the TV on and only one bullet in his pistol, Riggs points the gun on his forehead, then his mouth. He fails to pull the trigger and then tells his wife (looking up) "not today", and promises to her he will be with her again soon.
Because of his suicidal problems, Riggs was transferred from the Narcotics division to Homicide. He waits in the police station for his new partner to show up. When he pulls out his gun to check out his ammunition, a police man mistakenly suspects him as a criminal and charges after him but Riggs tosses him over his shoulder and points the gun at him. Detective Boyette introduces Roger Murtaugh to Riggs, his new partner on the Hunsaker case.
Losing love
Riggs is taken to a pier and is informed by Pieter that he was the one that killed Victoria, intending to kill Riggs after he got too close to Pieter's drug operation. Riggs is soon thrown into the water nearby by Pieter's thugs, strapped into a straightjacket.
After escaping by dislocating his right shoulder, Riggs sees Rika's body, still wearing his coat, having drowned. Deeply sorrowed by this, he swims to the top of the water and climbs out, killing both thugs brutally. He relocates his arm and recovers her body.
Riggs paces along the beach, cradling Rika's body in his arms, sobbing over the death of yet another loved woman. Sam watches from the other side of the beach and he looks over the body of the woman he loved.
Cop killers
Life with Lorna
While attending to an armored criminal firing a flamethrower and a machine gun at stores and vehicles, Riggs and Murtaugh are soon pinned down in a life and death situation. Murtaugh tells Riggs that Lorna is pregnant and that'll he'll be a father. Riggs soon after informs Murtaugh that Rianne is pregnant and he'll be a grandfather.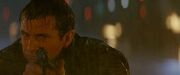 Riggs decides to have Murtaugh run from cover in his boxers to distract the criminal. The plan works and Riggs fires at the criminal's flamethrower valves, sending him into a gas tanker truck and causing an explosion that kills him. Riggs and Murtaugh walk away from the scene.
Finding the Hongs
Eight months later, Riggs and Murtaugh are on Murtaugh's boat, fishing with Leo, who has captured a shark.
Visiting Victoria
After Murtaugh saved him, Riggs visited the grave of Victoria after a long time of not having visited. He spoke of his love for Lorna before Leo soon arrived. Leo told Riggs a story of a pet frog he once had, informing him that he and Murtaugh were different friends than the frog, inspiring Riggs to marry Lorna.
Son's birth
Riggs and Leo arrived at the hospital in time to see Lorna being wheeled towards a delivery room. She soon demanded that Riggs marry her before the baby arrived, to which he shared his approval. The two were unofficially wed by a Rabbi, with the help of Leo as Riggs' best man.
Lorna and Riggs soon went into the delivery room, where Riggs' son was born. Murtaugh and Butters soon arrived, where the friends viewed Riggs' son and Murtaugh's granddaughter. The Captain arrived with gifts for the mothers of the new babies and the families, including Leo, the Captain and Murtaugh's other daughter, son and wife, took a photo together.
Behind the Scenes
Martin Riggs was portrayed by Mel Gibson in all four Lethal Weapon films.
Appearances