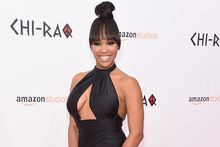 Michelle Mitchenor is an actress. Before being discovered as an actress by Academy Award Winning Director Spike Lee, Michelle started in the industry as a professional dancer/singer. She has shared the stage and/or worked with top recording artists such as Rihanna, Beyonce', Pharrell Williams, Cee-lo Green, Alicia Keys and more. She got her start in New Jersey, at Ocean County Performing Arts Academy High School, where she studied dance, voice and acting. Her higher education continued at Towson University where she completed her Bachelor's of Fine Arts in Dance Performance. Michelle resides in Los Angeles, CA working as an entertainer, and spends her spare time doing international outreach in Africa.
She currently casts as Sonya Bailey in Lethal Weapon.
Ad blocker interference detected!
Wikia is a free-to-use site that makes money from advertising. We have a modified experience for viewers using ad blockers

Wikia is not accessible if you've made further modifications. Remove the custom ad blocker rule(s) and the page will load as expected.