Roger Murtaugh's Boat was a houseboat that belonged to LAPD Detective Roger Murtaugh. He purchased it sometime into his alcoholic depression and kept it for a few years until it was destroyed by a flaming oil drum.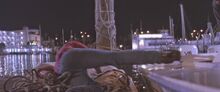 After killing Darryl Smithers, Roger Murtaugh entered a depression phase and also began drinking alcohol. During his 3-4 days as an alcoholic, he purchased a houseboat and soon began to distance himself from his family as well.
One night, while sleeping in his trailer, he received a visit from Martin Riggs, at Rianne Murtaugh's request, who wanted to see how his fallen partner was feeling. He also wanted to help him regain his self consciousness and focus on the future. Initally reluctant in listening to Riggs, Murtaugh agrees to return to the force, of course when they fall off the boat and soak themselves.
Years later, and nine months after the armored criminal shooting incident, Roger, Riggs, and Leo Getz go fishing on Murtaugh's boat.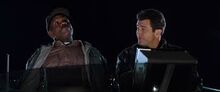 Prior to Lethal Weapon 3, Murtaugh owned another boat in the first film, which was outside his garage. It is unknown what became of it.
Ad blocker interference detected!
Wikia is a free-to-use site that makes money from advertising. We have a modified experience for viewers using ad blockers

Wikia is not accessible if you've made further modifications. Remove the custom ad blocker rule(s) and the page will load as expected.