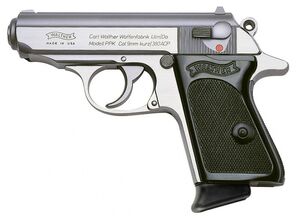 The
Walther PP
(Polizeipistole, or Police Pistol) series pistols are blowback-operated semi-automatic pistols, developed by the German arms manufacturer Walther.
It features an exposed hammer, a traditional double-action trigger mechanism,[3] a single-column magazine, and a fixed barrel that also acts as the guide rod for the recoil spring. The series includes the Walther PP, PPK, PPK/S, and PPK/E.
A smaller, Walther PPK pistol appears as Jack Travis main sidearm for much of Lethal Weapon 3.
Ad blocker interference detected!
Wikia is a free-to-use site that makes money from advertising. We have a modified experience for viewers using ad blockers

Wikia is not accessible if you've made further modifications. Remove the custom ad blocker rule(s) and the page will load as expected.